"Gucci Glamour: A Journey Through Iconic and Timeless Pieces"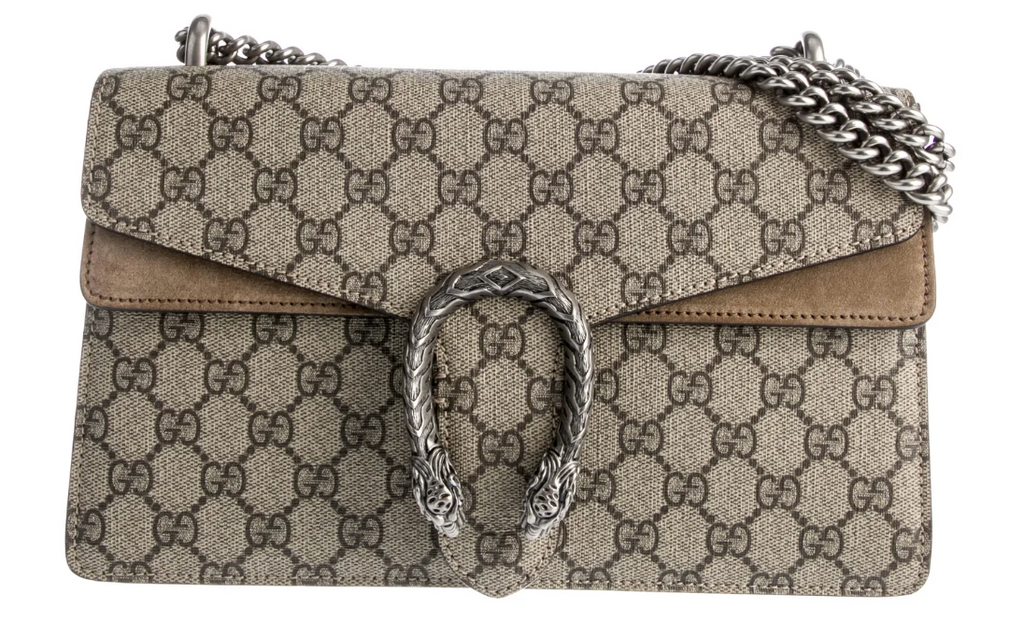 "Gucci Glamour: A Journey Through Iconic and Timeless Pieces"
In the ever-evolving world of fashion, there are few names as synonymous with luxury and style as Gucci. From the iconic GG logo to bold prints and innovative designs, Gucci continues to reign supreme as a trailblazer in the industry. Today, we take a closer look at some of the most coveted Gucci items that have graced the runways and our wardrobes. Join us as we explore the realm of Gucci glamour on CelebrityOwned. 
1. The Gucci Dionysus Bag
No list of iconic Gucci items is complete without the mention of the Gucci Dionysus bag. This bag marries history and contemporary style, featuring a tiger head clasp and distinctive bamboo handle. It's a true work of art that adds a touch of mystique to any outfit. Whether you're wearing it casually or on a night out, the Dionysus bag is an essential piece for the modern fashionista.
2. The Gucci Marmont Belt
The Gucci Marmont Belt is more than just an accessory; it's a statement piece. With its double G buckle and a range of colors and widths to choose from, it effortlessly elevates any ensemble. Whether cinched around a tailored blazer or worn with jeans, it's a versatile item that speaks volumes about your fashion sensibilities.
3. Gucci Ace Sneakers
When it comes to luxurious streetwear, Gucci Ace sneakers have become a symbol of effortless cool. Adorned with the brand's iconic Web stripe and various motifs, from embroidered bees to roaring tigers, they're a nod to Gucci's rich heritage. Comfortable and undeniably stylish, they're the perfect way to blend high fashion with casual vibes. Shop new Gucci Ace Sneakers at Neiman Marcus.
4. The Gucci GG Monogram Scarf
A Gucci monogram scarf is more than just an accessory; it's a symbol of elegance. Whether draped over your shoulders on a chilly day or tied as a headscarf for a touch of retro charm, the GG monogram scarf is an iconic piece of Gucci history that never goes out of style.
5. The Gucci Horsebit Loafers
The Gucci Horsebit Loafers are a true embodiment of timeless chic. With their classic silhouette and the signature horsebit detail, these shoes have transcended generations. They effortlessly pair with both formal attire and everyday outfits, making them a must-have for those who appreciate the fusion of tradition and trend. They also let you rock a fire Vegas outfit & look!
6. The Gucci GG Marmont Bag
The GG Marmont Bag is a contemporary classic that combines a timeless structure with the modern flair of the GG logo. Available in various sizes and styles, it's the epitome of Italian craftsmanship. This bag effortlessly complements your outfit, whether you're dressed up for an evening out or keeping it casual.
7. Gucci Aviator Sunglasses
No celebrity-worthy ensemble is complete without a pair of Gucci Aviator Sunglasses. Exuding a sense of Hollywood glamour, these shades offer both protection from the sun and a touch of star-studded elegance. Their bold designs and innovative frames make them an essential accessory for fashion-forward individuals.
8. The Gucci Princetown Slippers
Gucci's Princetown Slippers are nothing short of iconic. With their instantly recognizable horsebit detail and comfortable design, they have redefined the notion of luxury loungewear. Whether worn at home or flaunted in the streets, these slippers are a symbol of exquisite taste and a commitment to comfort without compromising style.
9. The Gucci Oversized T-shirt
Oversized T-shirts have become a fashion staple, and Gucci's take on this trend is nothing short of exceptional. Featuring unique prints, logos, and designs, these tees are an embodiment of the brand's bold and imaginative spirit. They effortlessly pair with jeans, skirts, or even under blazers for a high-fashion look with a relaxed feel.
10. The Gucci Ophidia Shoulder Bag
The Ophidia Shoulder Bag is a masterclass in Gucci's ability to blend vintage charm with modern sensibilities. Adorned with the classic red and green Web stripe and GG detailing, it's a nod to the brand's rich history. This versatile piece is perfect for those who appreciate the fusion of nostalgia and contemporary fashion.
In conclusion, Gucci continues to enchant fashion enthusiasts with its timeless designs and innovative creations. These iconic items have cemented their status in the fashion world, and they are likely to remain must-have pieces for years to come. As we celebrate Gucci's unique blend of heritage and modernity, we're reminded that true style is, indeed, timeless. Whether you're a fan of classic pieces or seeking to make a bold statement, Gucci has something for everyone. Embrace the glamour, the heritage, and the unparalleled craftsmanship that Gucci embodies.